By Mugs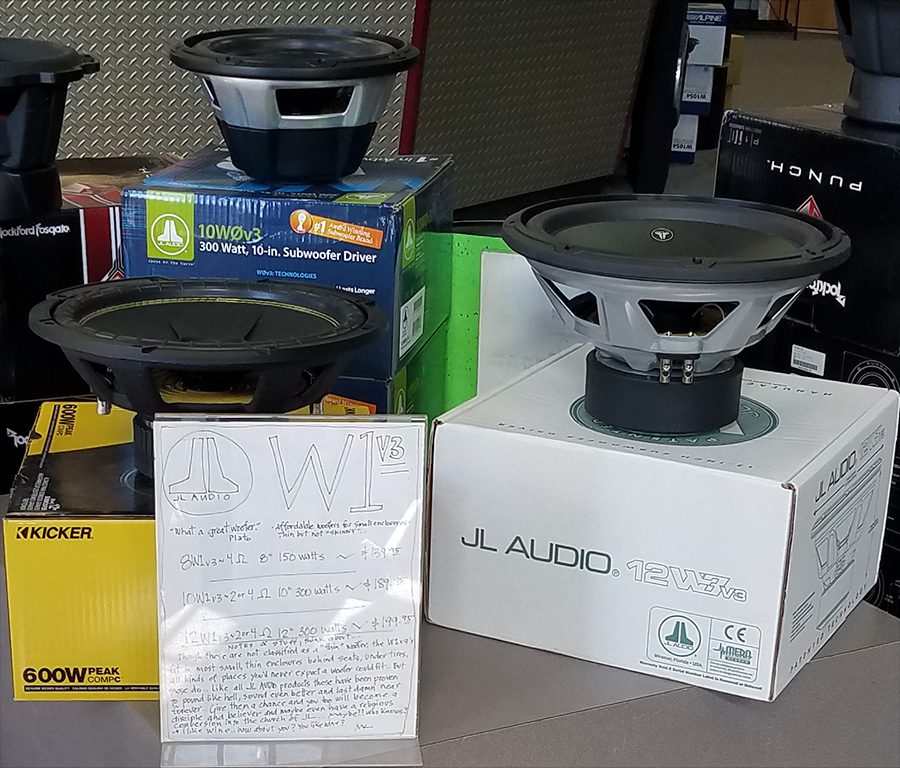 Review of JL Audio W1v3 subwoofers, available at Sounds Good To Me in Tempe, Arizona.
"What a great woofer." Plato.
Affordable woofers for small enclosures, thin but not "skinny".
8W1v3-4 Ω 8" 150 watts ~ $139.95
10W1v3-2 or 4 Ω 10" 300 watts ~ $189.95
12W1v3-2 or 4 Ω 12" 300 watts ~ $199.95
Though JL Audio W1 v3 subwoofers are not classified as a "thin" woofer, the W1v3's fit in most small thin enclosures behind seats, under tires, all kinds of places you'd never expect a woofer could fit. But these do.
Like all JL Audio products these have been proven to pound like Hell, sound even better and last damn near forever. Give them a chance and you too will become a disciple and believer and maybe even have a religious conversation into the church of JL…Maybe?? Who knows? I like wine…how about you? You like wine?
Learn more about the W1v3 subwoofer Driver at JLAudio.com:
Bench test the JL Audio W1v3 woofers and give them a listen in-store. They are available for purchase and installation Sounds Good To Me car audio & video electronics and security alarm system installation specialists are located in Tempe, AZ, servicing the entire metro Phoenix area including Mesa, Chandler, Scottsdale, Glendale and Gilbert, Arizona. Call us at (480) 968-8543, visit us at www.soundzgood2me.com or contact us by email at soundzgood2me00@yahoo.com.