A Short History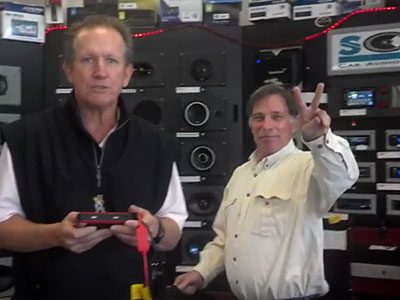 By Mugs.
Dave (Ace) Gracey started "Sounds Good To Me" in November 1995 and we were located at 21 W Broadway in Tempe. Prior to that Dave had been the General Manager and Store Manager for a 6 store local chain called "21st Century Sound". In fact our very name "Sounds Good To Me" is derived from "21st Century Sound's" radio jingle. "Sounds good to me, 21st Century…come in today…" was how it went. When Dave decided to purchase the Tempe location and was searching for a suitable name it stuck, and so it was.
Dave and I, Mark (Mugs) Kelber met in 1982 when we were new hires at a local 6 store chain called "21st Century Sound". It was there where we learned the intricacies of selling and the art of installing car audio correctly. We were both "schooled" by a strict, detail oriented, almost "anal" car audio genius, GM named Norman Finn. Norm was a smartest-guy-in-the-room kind of guy. Nothing escaped Norman's critical eye, and there would be hell to pay if it was you who missed, overlooked or did something wrong for any reason.
Boy did we ever both fear and loath this prick. But now looking back we agree just how much we truly appreciate his discipline and criticisms.  For taking the time to both, teach and drill constantly into us the RIGHT way to sell and install the best systems possible and to hire and keep the best people. One of our core beliefs is that a good installer can take the cheapest crap and install it correctly and make it sound surprisingly good for what it is. While on the other hand you give an incompetent hack the best and most expensive system to install and it will sound like shit. We believe that we are only as good as our installations.
We have worked very hard to earn a reputation as a very knowledgeable, friendly, honest car audio store that provides not only superb customer service but excellent installations at very fair prices. We guard this reputation ferociously and it's because of our inordinate attention to the smallest of details, (thanks Norm), that sets us apart from the competition. Or so we have been told by many customers many times over the years. We invite you to visit or call and see first hand how we roll.
All the brands we carry we are "Authorized" dealers and with some like JL Audio we are a "Signature" dealer which is a recognition given to their best dealers throughout the nation. We know your vehicle, boat, RV. We know what works and what won't.
---
About Us Today
By Dave.
Sounds Good to Me would be classified as a car audio specialist, doing business for over 20 years, specializing in car electronics, ranging from speakers, amplifiers, in dash am/fm cd to i-pod integration, auto security, or how about a custom video system with a custom mounted screen in your visor or for rear seat entertainment, how about monitors custom mounted in each head rest.
We are proud to be authorized dealers for Alpine, JL Audio, Clarion, Panasonic, Infinity, Diamond Audio among others and for security systems we offer Python, Hornet by DEI and Prestige by Audiovox.  We can do custom enclosures and stealth installs.  We have 3 covered installation bays and a dedicated wood and fabrication shop too.  We carry an extensive inventory of installation kits, harnesses, and all the necessary cables and wire as well as those hard to find kits & parts that the Do it Yourselfer are always in search of.
Sounds Good to Me is the home of the lifetime installation warranty.  Meaning any failure of any audio/video products due to installation, as long as proof of purchase is provided and the product was purchased form Sounds Good to Me, we will gladly warranty any issues that occur.
All our installations are warranted for as long as you own the vehicle, AND we will remove all the equipment you purchased from us at NO CHARGE.  Unlike most other shops, we will also install equipment you already own too.
Anything pertaining to audio or video for your car is what Sounds Good to Me is all about.
Call for an appointment, same day installations usually available. Thanks for checking us out.
Sounds Good To Me car audio & video electronics and security system installation specialists are located in Tempe, AZ, servicing the entire metro Phoenix area including Mesa, Chandler, Scottsdale, Glendale and Gilbert, Arizona.